PTFE Battery Wires
---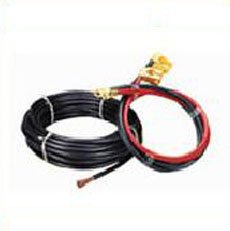 A Battery wire needs good insulation with flexibility. In cold weather, all other types of inverter battery wire connection become very stiff and difficult to work with due to the already limited flexibility. Therefore, our connecting Battery Cables are made of PTFE insulated wires and these battery wires are wrapped in a thick band of flexible and heat resistant Teflon coating material.
The inverter battery cable is offered in sizes ranging from 6 AWG to 4 AWG. Connecting battery cables is the best option when simple connection and protection is needed. This is to provide strong insulation to battery wire, produces direct current of more than 12 volts.
These inverter battery connection need insulated durable PTFE wires because inverter battery wire connection store more energy to provide a longer life. Due to which batteries become essential product as connecting battery cables have chemical energy which converts into electrical energy to fulfill the needs of direct current.
EV Charging Cable with Teflon Coating
In order to protect the EV cables from outside sources and to give the EV charger cable a longer life, PTFE is a polymer stand with good qualities. It has various fluorocarbons due to which our EV charging cable has very good performance. An inverter battery connection is available in standard battery circuit cable red and black.
An ordinary battery wires are limited to applications or projects that need no more than 60 volts of power. Therefore, teflon coated EV charging cable is the ideal solution for situations in which a simple connection between a battery and a starter is needed.
EV cables Manufacturer and Exporter
SSI Cables manufacture in-house car battery wire, all kinds of ev cables like PTFE insulated wires to high voltage cables and battery wires used in household and commercial purposes, basically in industries and factories. Applications of ev charging cable, manufactured by SSI Cables used in supply to several industries and can be used in car battery wire.